<!......content-left-wrap-start....>
Orica Laundry Management Software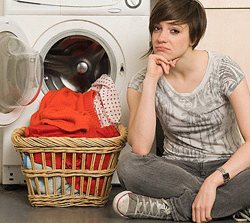 Interface at Store
Item/Garment Master
Master screen to maintain the item lists for processing
Service Master
master Screen to set the services offered for the public like Washing, Dyeing, Darning etc.
Pricing Master
Screen to set up/modify the price offered for any service for any particular item/garment
New Order taking screen
Screen to get the new order from a customer. This will accept the phone number and address of the customer. Avoids the duplicate customer entry. Accepts the dress materials for washing. Collects the advance payment and issues the bill.
Barcode Generation
Mechanism to generate the barcode for the collected pieces of dress. Prints the Barcode on the barcode-tags
Set-Status Interface
Screen to set the status of each piece to "Send to processing Unit" and "Received from processing Unit". This will be done through the Barcode scanner
Bill Search
Screen to search bill(s) through various criteria. With bill number, customer's name, phone number, date etc.
SMS Alert
mechanism to send the SMS to the customer about the ready for delivery status of their bill
Email Alert
mechanism to send the email to the customer about the collection , progress(if needed), ready for delivery, Delivered…. status of their bill
User Administration
Screen to control the access rights to the users. Create and Manage the user ids
Interim Payment
Screen to accept the Interim payment for any Bill. This will be considered as an advance payment for that bill and will be considered for settlement of that bill
Bill Settlement
Screen to Settle any bill. This will be done through key-in the bill number and loading the bill on screen, displaying the pending amount to be paid. Receipt is issued here
Collection report
Report on the collection of cash for the particular Store for the selected duration, from a customer or All together
Other Income/Expense management
Screen to log the other expense managements, like electricity bill, water bill, Hardware maintenance expense, Salary etc.
<!......content-left-wrap-end....> <!......content-right-wrap-start....>



SERVICES

Web Designing
Orica is a full-service website design and web development company that brings a host of services all under one roof...

Software Development
Our proficient team makes use of PHP, .NET, CSS, XHTML, JavaScript, Flash, Ajax, XML, MYSQL, MSSQL.....

E Commerce
Custom Ecommerce Web Site or use any Opensource Shopping Cart like Oscommerce, Zen Cart etc..

Job Training
We have separate, fully-fledged wing of IT professionals with strong IT background ....
<!......content-right-wrap-end....>
| | | |
| --- | --- | --- |
| Cash book | | Report on the cash inflow/outflow in detail, each transaction for any selected duration, account head |
| Consolidated Cash Transaction report | | Consolidated cash transaction for any selected duration, with monthly/daily break |
| General Settings | | General Settings screen for Store administrator to set the Tax %, Tin number, Marketing Advertisements on bills, any general information etc. |
| Discount/Offer manager | | Screen to set up the discount for each branch by Branch Administrator for customers, occasion etc. |
| Item Tracker | | Screen to track an item with item number. Helps to identify each point it travelled with date and time and the user handled |
| Cheque clearance | | Screens to clear the cheque and log the entry of the amount collected to the bill collection |
| SMS/Email alerts | | Mechanism for Automated SMS/Email alerts to customer and Store Admin(only mail) for the pending delivery items |
| Store Dashboard | | Dashboard at Store which displays the day's order count, Pending count to send to Processing Unit, Count Awaiting from Processing unit, Completed but not delivered count, Delivered count etc. |
Interface at Processing Unit
Set-Status Interface
This is the interface to set the status of the items coming in and going out from the processing unit using the Barcode scanner
PU Performance Report
Detailed report on the inflow/outflow of items from/to the processing unit for a selected duration
User Administration
Screen to control the access rights to the users. Create and Manage the user ids
Management Information System(MIS)
Dashboard
Dashboard to show the status of various parameters like the Day's total collection, Processing Unit performances, Total Dress collection/Delivery
Branch wise Collection Reports(PDF)
Report on the Bill collection from each branch for the selected duration. PDF export available
Branch wise Customer Details(PDF)
Report on branch wise customer count, business column in terms of cash etc.
Hardware
Barcode Scanner
Recommend two scanners for each store and two scanners for each Processing Unit.
Barcode Printer
Recommend only one printer per store. But suggests to have single backup for at least three stores
Receipt/Bill Printer
Dot-matrix or Deskjet printer for the bills receipts one at each Store
<!......footer-wrap-start....>